Crab Cake with Som Tam
The famous American appetiser, strongly flavoured with chili curry and served with tartar sauce. The dish is given the Thai twist by eating it with grated papaya, also known as Som Tam.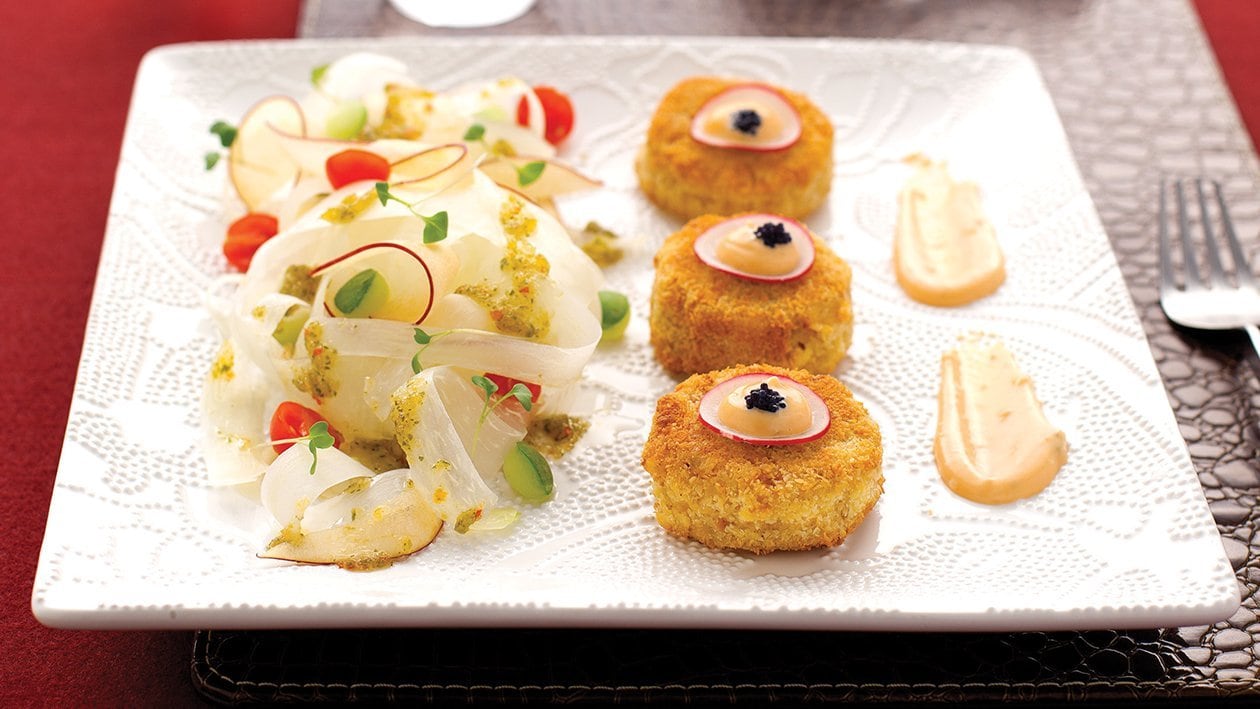 Ingredients
Making the Dish
Oyster Pre-Mixed Sauce

6.0 tbsp

Carrots, small diced

15.0 g

BEST FOODS Butter Flavoured Margarine 1 kg

Spicy Salad Dressing Pre-Mixed Sauce

4.0 tbsp

Micro Green Vegetables for decoration

Cherry Tomatoes for decoration

Sliced Radish for decoration
Preparation
Making the Dish

Put boiled crab, boiled potatoes, chili curry, oyster pre-mixed sauce, minced garlic, chopped onion, and small-diced carrots in a mixing bowl. Then mix them together.
Put the mixed in to the cylinder mould (height 1 inches, wide 2 inches). Then mixed with Knorr batter mix, dipped in egg and bread crumbs respectively. Get readyto be fry.
Pour Best Foods Butter Flavoured Margarine in the heated pan then fry the crab cake till getting yellow colour.
Blend sliced papaya with spicy salad dressing pre-mixed sauce.Sprinkle crushed cashews on top.
Serve with tartar sauce and Som Tam as a side dish.