Tuna Thai ceviche
Fresh & Raw Tuna Fish with Japanese style is mixed with Ceviche that famous in South America. Intense seasoning that blend with Chilli paste & herbs of Thai style.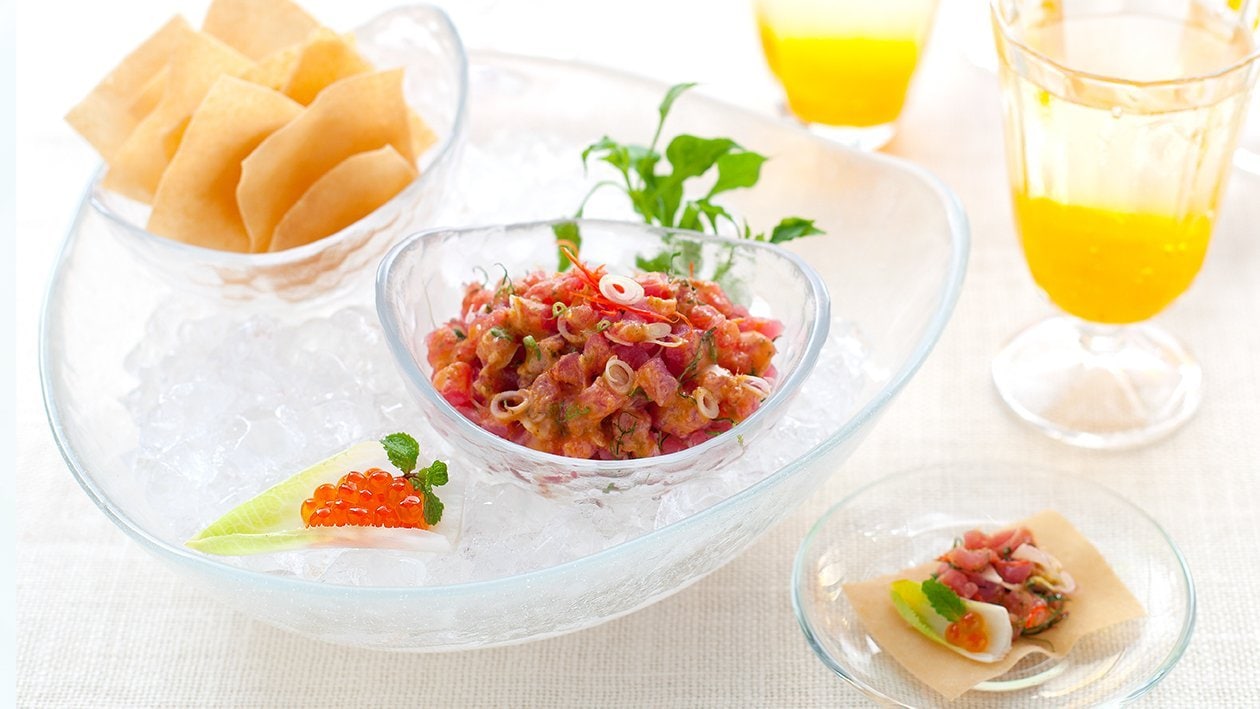 Ingredients
Making the dish
KNORR SELECTIONS Lime Seasoning Powder 400 g

160.0 g

KNORR SELECTIONS Fish Sauce 4500 ml

450.0 g

Sugar, granulated

210.0 g

Thai Bird Chilli, stem removed

135.0 g

Garlic Clove, peeled

135.0 g

Cilantro Root, cleaned

40.0 g

Sushi-Grade Tuna, diced 1cm

480.0 g

BEST FOODS Real Mayonnaise 1 kg

6.0 tsp

Saw Tooth Coriander, thinly julienned

2.0 tbsp

Shallots, thinly sliced

6.0 tbsp

Kaffir Lime Leaves, thinly julienned

1.0 tbsp

Mint, thinly julienned

2.0 tbsp

Lemongrass, minced

4.0 tbsp

For Garnish: A sprig of mint, hearts of witlof, fish roes and watercress red chilli, thinly julienned

Pastilla Crepe, 2x2" cut and crispy fried

32.0 slice

Aroysure All-In-One Seasoning Chicken Flavoured 800 g

30.0 g
Preparation
Making the dish

Place Knorr Lime Seasoning Powder, Knorr Premium Fish Sauce, Aroysure All-In-One Seasoning Chicken Flavoured, Granulated sugar, Thai bird chili, Garlic clove, Cilantro root and Shallot into a blender and blend until smooth.Correct seasoning if needed.
Then add Best Foods Real Mayonnaise and chili paste. Mix thoroughly.
Gently toss in tuna, shallot, kaffir lime leaves, coriander, lemongrass and mint. Transfer to a serving bowl. Serve with crispy fried pastille crepe and all embellishment as your liking.