Spicy Roast Pork Salad
The firm texture of roast pork, together with piquant seasoning, brings the taste of Northeast Thailand that makes everyone crave for more.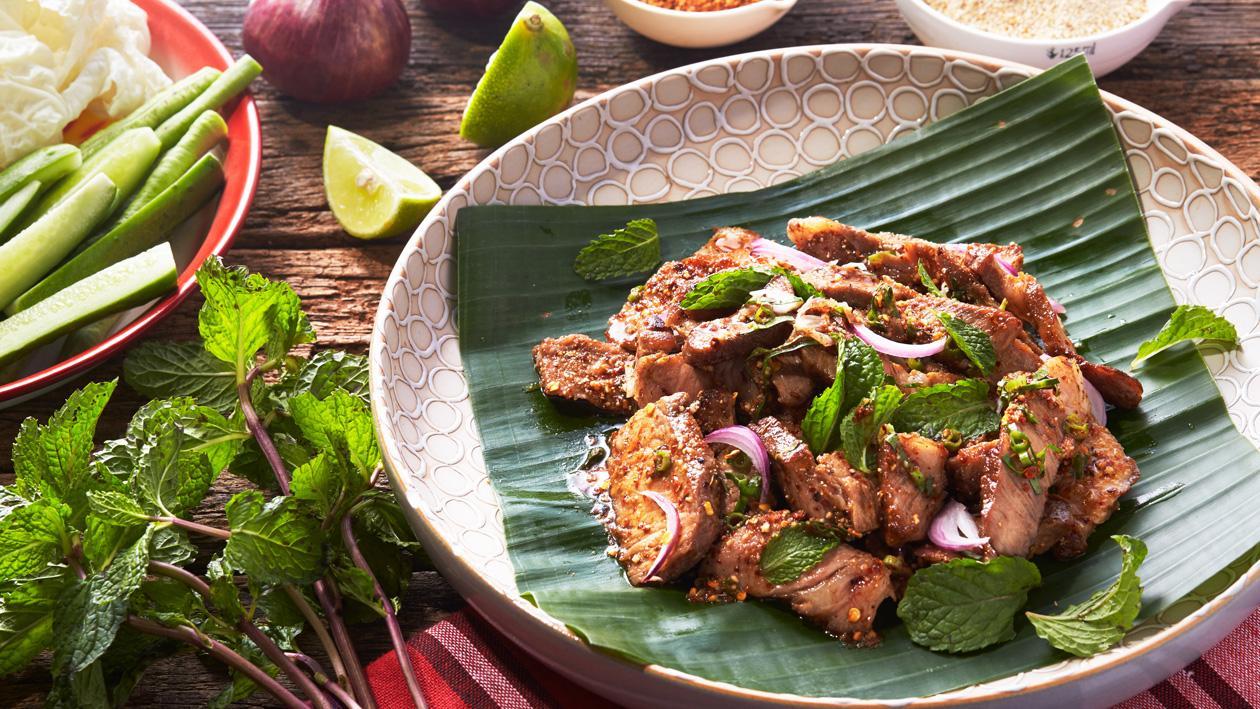 Ingredients
How to Make the Dish
Pork Collar or Loin

1000 g

Vegetable Oil (for marinating)

6 tbsp

Roasted Rice, ground

4 tbsp

Spring Onion, chopped

2 tbsp

Tip of Mint Branch (for decoration)

Red Chili Pepper, finely julienned
How to Make the Sauce
Preparation
How to Make the Dish

Rinse pork collar or pork loin piece then cut horizontally.
Marinate pork with sugar, vegetable oil, Knorr Rostip All In One Pork Seasoning Powder and Knorr Premium Fish Sauce. Set aside for 20 minutes.
Roast the marinated pork on pan or stove till both sides are fragrant. Slice into bite-size and put aside.

How to Make the Sauce

Add All ingredients for the sauce In a bowl and Add the prepared pork. Add Knorr Rostip All In One pork Seasoning Powder, ground roasted rice, chili Powder, Knorr Lime Seasoning Powder, sliced red onion, culantro, spring onion and mint leaves.
Mix well and season to taste.

Serving

For decoration, top the dish with mint tip and sliced chili pepper.
Serve with fresh vegetables and hot sticky rice.