Salmon Roll and Spicy Tuna Salad
A healthy delicacy lavished with salmon and tuna.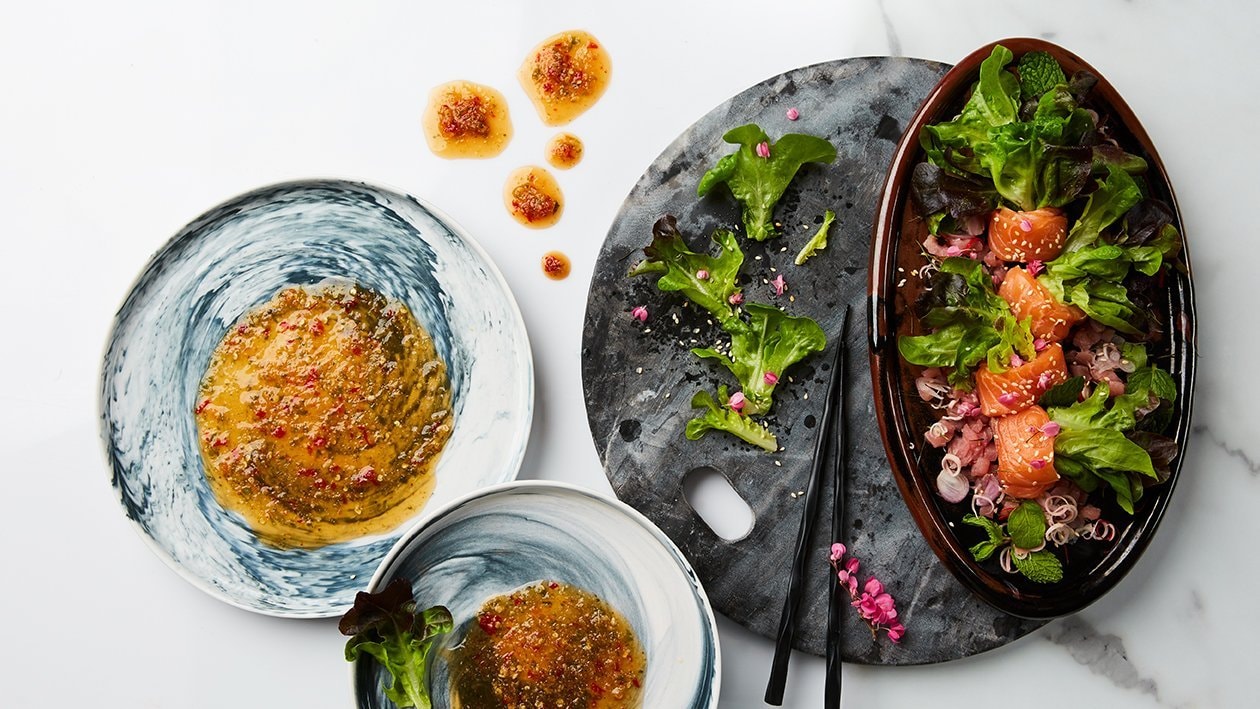 Ingredients
How to Prepare
Fresh Tuna, chopped into small pieces

80.0 g

Coriander Leaves, shredded

0.5 tbsp

Shallots, sliced

1.0 tbsp

Kaffir Lime Leaves, sliced

0.5 tbsp

Peppermint Leaves, sliced

0.5 tbsp

Lemongrass, sliced

0.5 tbsp

Peppermint Leaves, for topping

Red Chili, sliced for topping

Salmon, sliced into thin pieces

4.0 piece
Main Sauce, Fixed Formula
Preparation
How to Prepare

For salmon roll and sauce:

Lay the sliced salmon on top of various mixed vegetables. Roll up the salmon slices into bite-sized pieces.
Pour the main sauce over the salmon rolls (2 tablespoons) or you can serve the sauce separately. Place the salmon eggs on top of the salmon rolls, and the dish is ready to be served.

For fresh tuna salad:

Mix the main sauce with (3 tablespoons) the chili paste oil and stir well.
Add diced tuna, followed by sliced shallots, sliced kaffir lime leaves, coriander leaves, lemongrass, peppermint leaves and lightly toss them all together.
Place the tuna on the serving plate, add mixed salad and garnish with peppermint leaves, sliced red peppers and serve together with the salmon rolls.

Tips: Add more main sauce or Best Foods Real Mayonnaise for a more intense flavour.

Main Sauce, Fixed Formula

Mix all ingredients and stir well.