Grilled River Prawn with Roasted Thai Green Eggplant Salad
A local delicacy that everyone must try. A savoury eggplant dish, spicy, with a wonderful zest of flavour.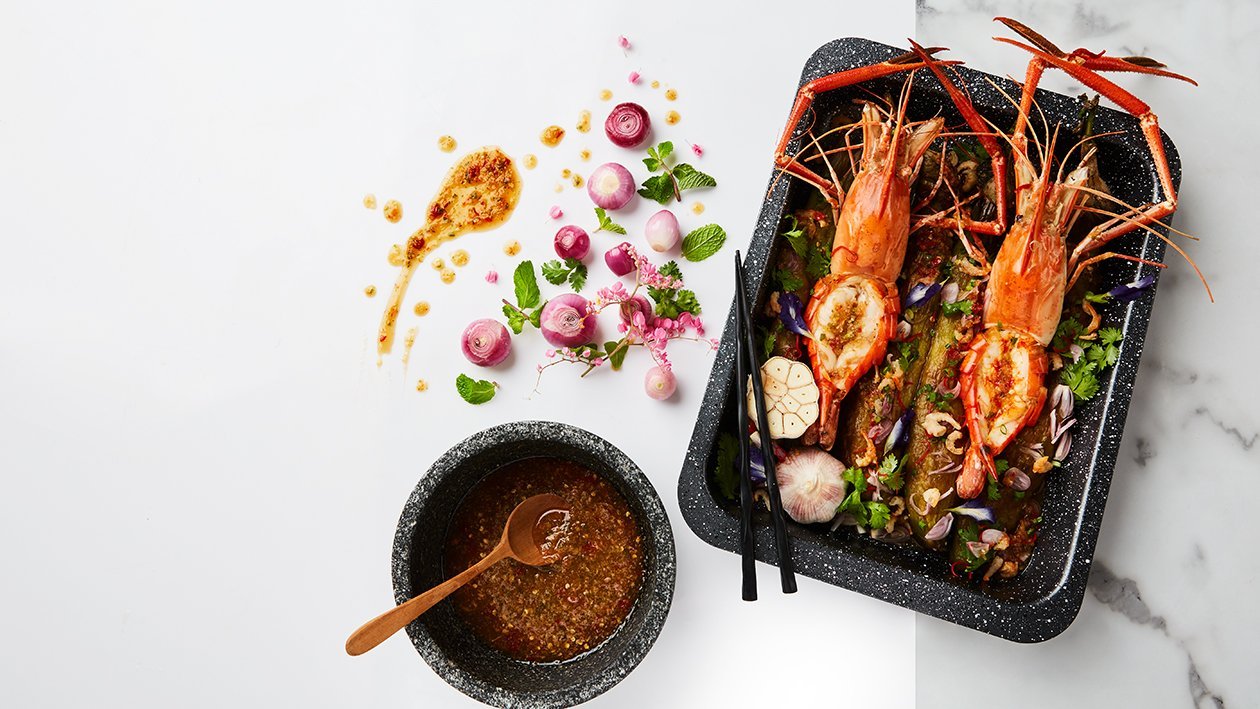 Ingredients
How to Prepare
Ground Pork, cooked

50.0 g

Banana Shrimp, cooked and minced

50.0 g

Dried Shrimp, ground

0.5 tbsp

Green Onion, sliced

5.0 g

Shallots, thinly sliced

20.0 g

Coriander Leaves, for topping

Grilled Eggplant, peeled and chopped

1.0 item

Freshwater Prawn, cut in half

1.0 portion
Main Sauce, Fixed Formula
KNORR SELECTIONS Fish Sauce 4500 ml

300.0 g

KNORR SELECTIONS Lime Seasoning Powder 400 g

70.0 g

Aroysure All-In-One Seasoning Chicken Flavoured 800 g

8.0 g
Preparation
How to Prepare

Put everything together with the main sauce and stir until everything is mixed. (If you prefer a more mellow flavour, blend pickled garlic and pickled garlic juice with the sauce).
Place the eggplant salad on the prepared plate, followed by half cut grilled shrimp. Top the dish with coriander leaves and boiled quail eggs cut into halves. Sprinkle with dried ground shrimp and salmon eggs, and the dish is ready to be served.

Main Sauce, Fixed Formula

Mix all ingredients and stir well.