Thai Basil Shrimp with Deep-Fried Basil and Creamy Omelette
Easy-to-make homemade food, taken to another level.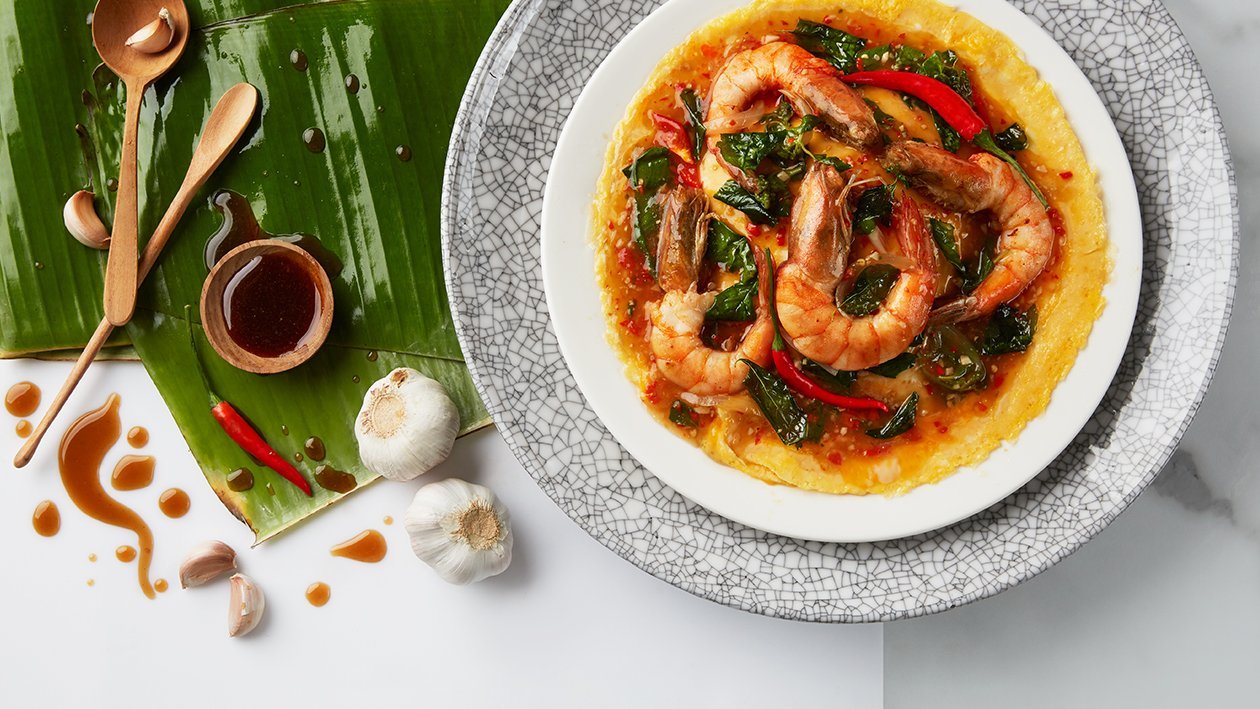 Ingredients
How to Prepare
Banana Shrimp, peeled and deveined

150.0 g

Bird's Eye Chilli, minced

5.0 g

Fresh Basil Leaves

10.0 g

Red and Green Chili, cut diagonally

10.0 g

Seasoning Sauce made with Fish Sauce

2.0 tbsp

Basil Leaves, deep fried

5.0 g
Main Sauce for Stir Frying Made with Fish Sauce, Fixed Formula
Preparation
How to Prepare

Heat vegetable oil in the pan. Stir fry minced garlic and diced bird's eye chili for ten seconds. Add shrimp and stir fry until slightly cooked. Add sliced onions and season with the main sauce made with fish sauce, black soy sauce, stock, red and green chili and basil leaves.
Break an egg in a bowl and beat the egg until blended. Heat the pan on medium heat until hot. Pour in the egg and continue cooking until slightly cooked. Remove from heat and place it on the prepared plate.
Spoon the basil shrimp onto the scrambled egg. Complete the dish with deep-fried basil leaves and it is ready to be served.
Tips: The dish can be served over steamed jasmine rice. The dish can also be customized by changing the main ingredient to other types of meat.

Main Sauce for Stir Frying Made with Fish Sauce, Fixed Formula

Mix all ingredients and stir well.