Sukhothai Tom Yam Noodles
This delicacy is served with an assorted array of ingredients, with tasty marinated minced pork being in the heart of this dish.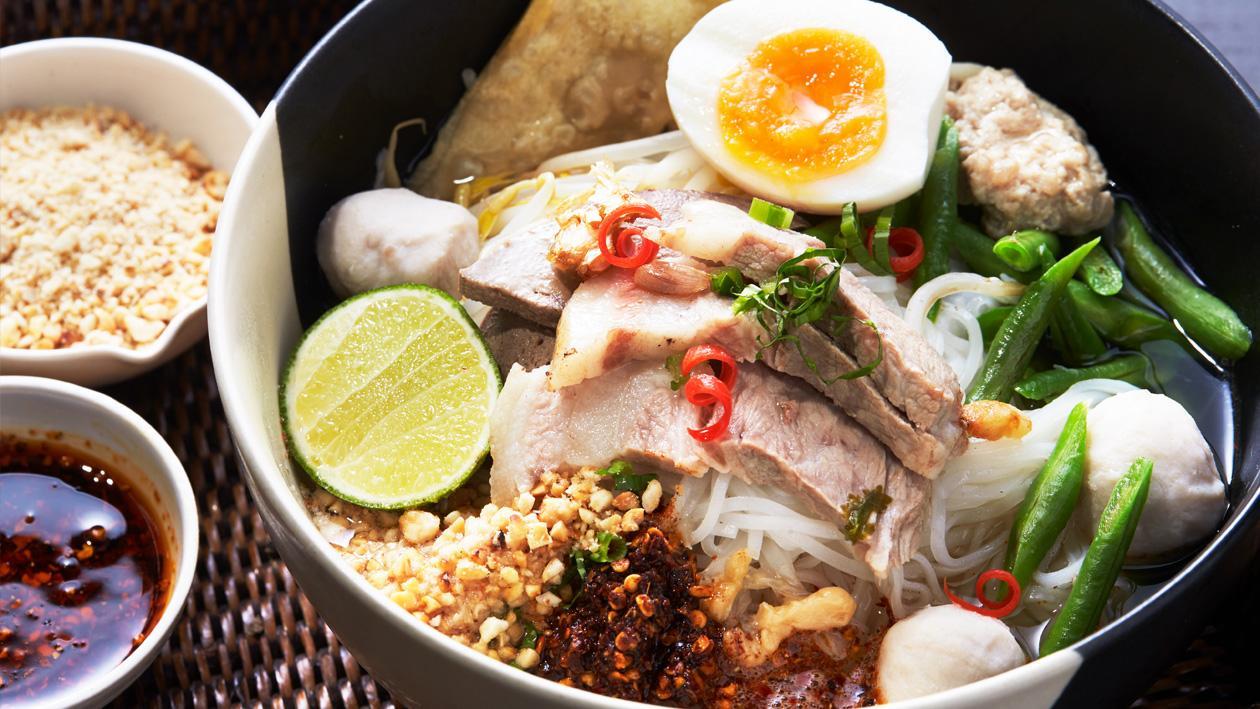 Ingredients
How to Prepare Soup
Pickled Garlic Juice

4 tbsp

Garlic, roughly pounded

5 part
How to Prepare Noodles and Other Ingredients
Rice Vermicelli Noodles

80 g

Dry Cabbage Leaves

0.5 tsp

Fried Garlic with Pork Crackling

1 tbsp

Spring Onion and Culantro, chopped

2 tsp

Roast Peanuts, grounded

1 tbsp

Egg, medium boiled

0.5 cup

Seasoned Minced Pork, molded and cooked

3 bit

Pork Intestines, cooked

3 piece

Pork Liver, sliced and cooked

2 piece

Pork Stomach, cooked and sliced

2 piece

Dumpling Skin, fried

2 slice
Preparation
How to Prepare Soup

Heat water and add pork spine bone, coriander root, roughly pounded garlic, black peppers, crystalline sugar, pickled garlic juice, padanus leaves, radish, Aroysure All-In-One Pork Flavoured Seasoning, and Knorr Clear Noodle Soup Powder Pork Flavour.
Bring to boil. Skim off foam and season to your taste.

How to Prepare Noodles and Other Ingredients

Put water on stove and bring to boil. Add noodles, bean sprouts and long bean. Once cooked, Put In a bowl then Add fried garlic with pork crackling and dried cabbage leaves. Stir well.
Cook the minced pork, pork innards, and pork balls In the boiling water. Put them In the same bowl with noodles.

Serving

Top the noodles with pork balls, minced pork, pork intestines, pork liver, and pork stomach. Arrange to your preference.
Season with sugar, Knorr Premium Fish Sauce, Knorr Lime Seasoning Powder, ground peanut and chilli powder. Top with medium boiled egg.