Northern Thai Curry Noodles with Chicken (Khao Soi Gai)
Ho noodles, the dish representing Chiang Mai in old times, is recreated into a dish with a stronger taste and becomes the savoury Khao Soi noodles in the present time.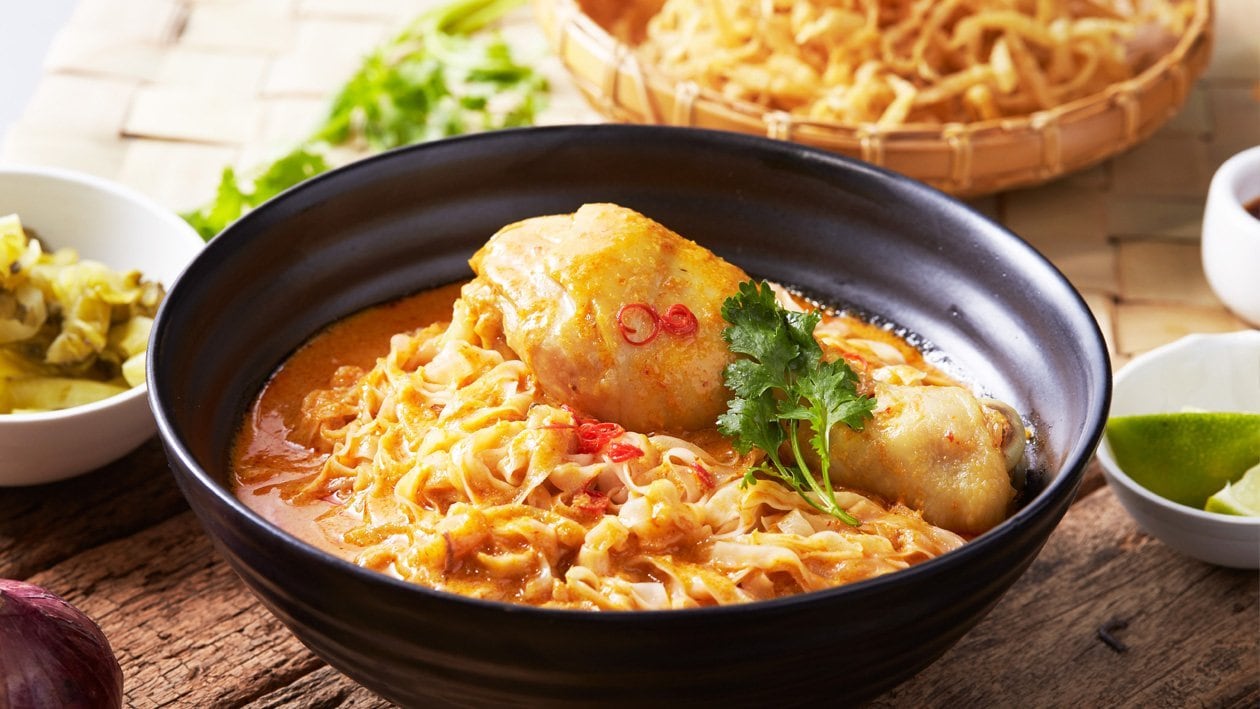 Ingredients
Noodles Preparation
Flat Egg Noodles (Khao Soi Noodles)

Flat Egg Noodles (Khao Soi Noodles), deep fried

Spring Onion and Coriander, cut

Chicken Drumsticks/Thighs

4.0 piece

Ginger, thinly sliced

5.0 log
How to Make the Dish
Chili Powder, roasted in oil
Preparation
Noodles Preparation

Heat the oil in a pan and bring to boil. Deep fry flat egg noodles until golden. Set aside to drain oil.
Bring water to boil then cook the flat egg noodles in boiled water. Set aside.

How to Make the Dish

Heat up oil in a pot. Add red curry paste and stir fry until fragrant. Add curry powder and stir fry well. Then add coconut cream little by little until curdled.
Add chicken drumsticks (or chicken thighs), coriander roots, ginger, and coconut milk. Simmer until boiled.
Season with palm sugar, Knorr Premium Fish Sauce, and Aroysure All-In-One Pork Flavoured Seasoning. Simmer until the chicken is soft. Season to taste.

Serving

Put the boiled noodles in a bowl. Pour the curry soup on the noodles and top with chicken drumsticks (or thighs).
Add deep fried noodles on the curry soup. Top with spring onion, coriander leaves and finely julienned chilies.
Serve with side servings such as pickled cabbage, lime wedges, roasted-in-oil chili powder and shallots.