Nasi Goreng Bangkok
Nasi Goreng means "Fried Rice", it's a very famous dish in many countries. It is applied the Bali style by frying with margarine to get the unique smell and then mixed with a ginger soup pre-mixed sauce to bring out the sour, salty, and sweet taste!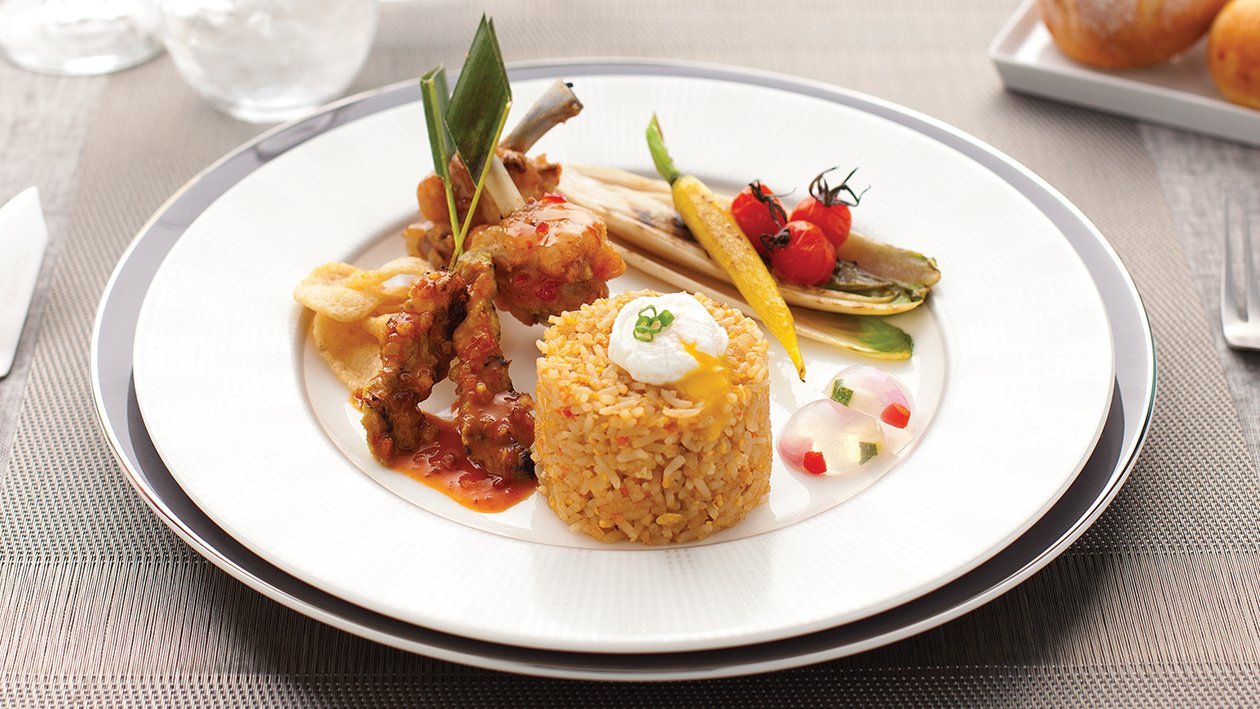 Ingredients
Making the dish
Carrots, small diced

20.0 g

BEST FOODS Butter Flavoured Margarine 1 kg

8.0 tbsp

Ginger Soup Pre-Mixed Sauce

16.0 tsp

Spicy Salad Dressing Pre-Mixed Sauce

6.0 tbsp

KNORR SELECTIONS Chicken Dipping Sauce 4000 liter

4.0 tbsp

Salad Wheat Loaf for decoration

Cherry Tomatoes for decoration

Baby-Grilled Carrot for decoration

Chicken Wings, fried

8.0 piece

Quail Eggs, boiled or soft boiled

4.0 egg

Fried Shrimp Chip

8.0 slice
Preparation
Making the dish

Add Best Foods Butter Flavoured Margarine, minced garlic, minced onion, diced carrot and stir fried.
Add rice to mix with egg, after that season with ginger soup sauce and spicy salad dressing pre-mixed sauce. fry everything together.
Put Nasi Goreng Bangkok in bloc to serve on the plate. Serve with beef steak, satay sauce, shrimp chip, fried chicken wing and fried egg or soft boiled egg. Decorate rice with parsley and minced red chilli.