Kanom Thong Yod Coconut Cream Tart
Differentiate your menu with Thai fusion style.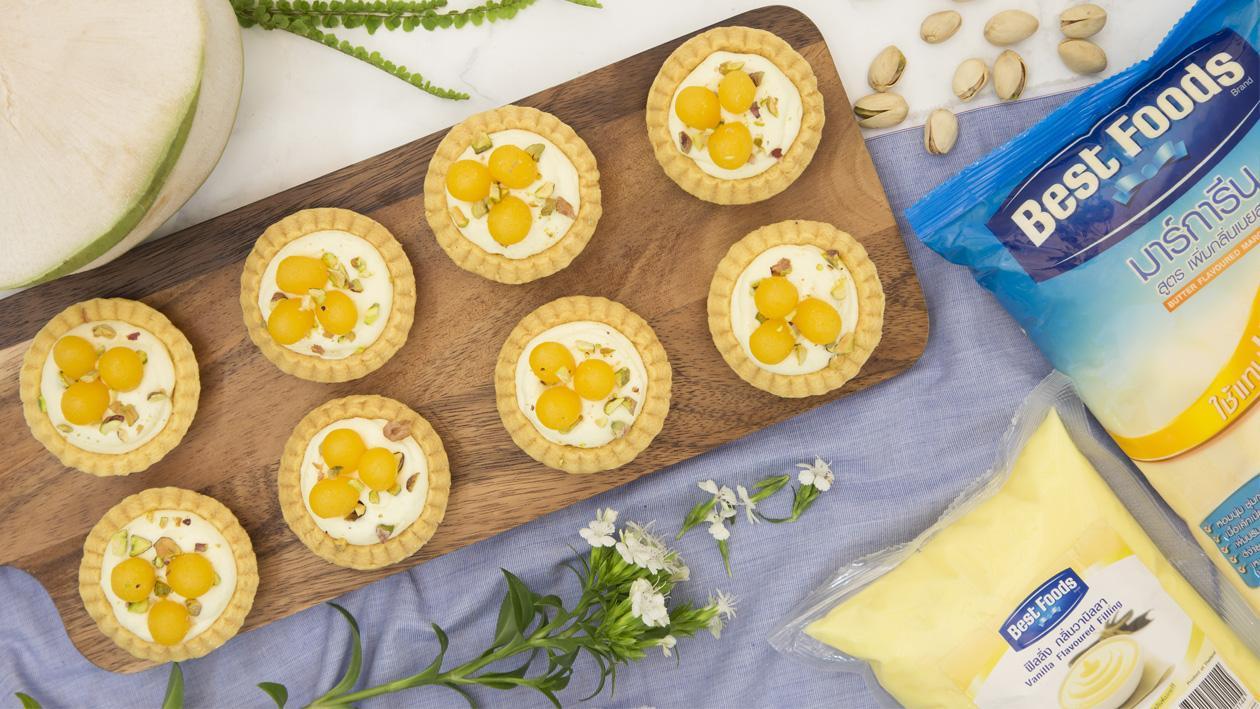 Ingredients
For the Crust
Egg (egg yolk only)

1 egg

White Butter, for brushing the muffin pan
For Coconut Vanilla Cream Filling
Young Coconut, shredded

145 g

Gelatin Sheet, soaked in very cold water until softened

1.5 slices

Whipping Cream, chilled

125 g

Kanom Thong Yod, small size

30 egg

Pistachio Nuts, for decoration
Preparation
For the Crust

Into a mix bowl, sift flour and icing sugar. Side aside.
In a mixer, beat Best Foods Butter Flavoured Margarine until tiny crumb forms.
Add egg yolk, cold water and gently stir until the dough forms. Refrigerate the dough for 30 minutes.
Use wood roller to flatten the dough until 1/2 cm. thick. Press the dough with a cup mold.
Press the dough into the cup mold greased with white butter. Use a fork to stick small holes all over the dough. Bake at 180°C for 30 minutes or until golden brown. Take the crust from the oven. Remove from the cup mold. Let the tart cool.

For Coconut Vanilla Cream Filling

Into a blender, add shredded coconut (1), Best Foods Vanilla Filling and fresh milk Blend until well blended.
Pour into a pot, add sugar, Best Foods Butter Flavoured Margarine. Heat until boiling. Add gelatin and stir until dissolve. Turn off the heat.
Add shredded coconut (2), mix together. Set aside the filling until cool.
In a mixer, beat whipping cream with wire whip at the highest speed until rise. Add the filling prepared in step 3, Use paddle to mix the mixture until well blended. Scoop into squeezing bag.
Squeeze coconut cream on to the tart crust. Sprinkle pistachio on top. Place Kanom Thong Yod and serve.