Corn-Filled Pie Pops
An all-time favourite corn filling, but with a different way of presentation.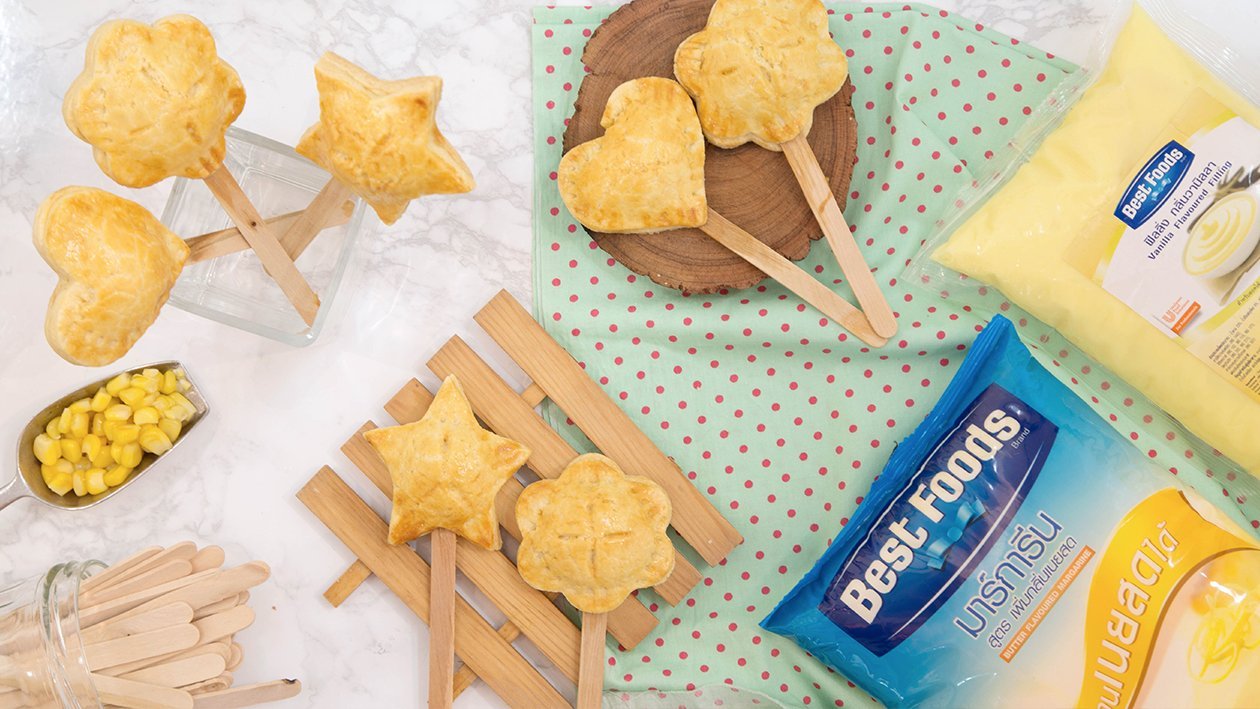 Ingredients
For Corn-Filled Pie Pops
All Purpose Flour

400.0 g

Fine Ground Salt

0.5 tbsp

BEST FOODS Butter Flavoured Margarine 1 kg

200.0 g

Egg (egg yolk only)

2.0 egg

Water, very cold

6.0 tbsp
For Corn Filling
BEST FOODS Vanilla Flavoured Filling 900 g

100.0 g

Sweet Kernel Corn in Brine or Boiled Sweet Corn

100.0 g
Preparation
For Corn-Filled Pie Pops

In a mixing bowl, sift all-purpose flour. Add sugar and salt. Stir the ingredients well.
Add Best Foods Butter-Flavoured Margarine. Use pastry blender to chop until the flour mixture becomes tiny pieces.
Add eggs and very cold water. Keep mixing until the mixture forms a dough. Chill in the fridge for 30 minutes.
Roll out the dough until it's about 1/2cm thick. Use assorted baking molds to press the dough.
Place the dough cut in different shapes on flat bottomed container. Scoop corn filling on the dough. Place ice cream stick and cover the other dough sheet on top. Use fork to press and seal the dough tightly.
Place the dough on white butter-brushed baking tray. Lightly brush egg wash on the dough. Bake at 180 C for 30 minutes or until golden brown. Remove the pie from the oven and let it rest on rack. Serve well.

For Corn Filling

Combine Best Foods Vanilla-Flavoured Filling with sweet corn. Stir the ingredients well.