Nowadays, we live convenient lives due to the continuous evolution of technologies which some of it is far beyond our expectations. Who would have thought that one day there will be a watch that does more than just telling times? The so-called smartwatch can do whether receive a phone call, read messages from chatting applications, count our steps, listen to music, connect to the internet, open the map and also be a sidekick device for those who love to exercise since it can monitor your heart rate. Recently, this smartwatch can perform an ECG (ECG: Electrocardiogram) which is considered as a breakthrough in the medical industry and technology because normally, ECG can only be performed in the hospital. So that's why everybody is keeping their eyes on this state-of-the-art technology whether it will be integrated into any other use. This could be another big, important step in the health and medical industry that evolves healthcare services closer to people with just one touch away.
Innovations in everyday lives
In terms of everyday lives, there are also the innovations that we wish it will become true one day such as automatic laundry folding machine. This is one of the tedious chores that we all have to do. To replace washing clothes by hands, we invented the washing machine. To replace drying the clothes when there is no sunlight, we invented electric dryers. And now here we are with the folding machine! All these innovations help us live our lives more convenient, save our times so that we have more times to do something else.
In the time that our limited resources were exploited, we need to live the environmentally friendly life. In the USA, there is the toothpaste that doesn't need to use with water, the toothpaste pill, the Shampoo Bar that comes in a solid form that doesn't require a plastic packaging. Or even edible straw!
Food Industry Nowadays
When it comes to the food industry, there is one internationally famous veggie burger in the USA. The reason behind its fame is the veggie burger mimics real meat patty of normal burger perfectly whether the taste, the smell, the color, the appearance, and the texture.
Looking from the perspective of the producers or restaurant operators, the innovation of mimicking real meat might be too expensive and can be very exclusive which can cause in a higher production cost. Though, you can easily access the innovative food product in Thailand, KNORR Intense Meaty Essence, the innovative seasoning product that helps boost up strong meaty taste and deliver the top note of your dishes as it made from concentrated chicken bouillon 9.8%. This is easy to dissolve, that's why just a little use goes a long way.
Introducing KNORR Intense Meaty Essence
KNORR Intense Meaty Essence has 10 times more real chicken ingredient compare to Aroysure All-In-One Seasoning Chicken Flavoured which has the ingredient of 0.2% dry chicken. Due to the fact that KNORR Intense Meaty Essence is made from concentrated chicken bouillon 9.8% and comes in a liquid form, it is easy to melted and elevate glossy look of the meat, simpler than using seasoning powder that sometimes leave some undissolved lumps in the dish that can leads to the dissatisfaction of customers and can make the restaurant looks unprofessional. It can be used for stir-fry, soup, or marinade to unlock the full flavor potential of every dish. To give you a clearer picture of the application, these are the example menu seasoning with KNORR Intense Meaty Essence:
Fried dish
Spicy stir-fried minced pork with holy basil, Stir-fried Sea Bass with celery, Spaghetti with spicy stir-fried clam, Stir-fried shrimp with chili and garlic, Stir-fried wide Rice Noodles with chicken
Soup
Light chicken soup, Corn and crab meat thick soup, Bamboo mushroom and baby spare ribs soup, Chinese cabbage, egg tofu and minced pork soup
Marinade
Lemon grass marinade for grilled chicken, Turmeric marinade for grilled chicken, Thai Chicken Rice
With the innovative KNORR Intense Meaty Essence, the taste of your very dish will be boosted beyond expectations and look more tempting than ever!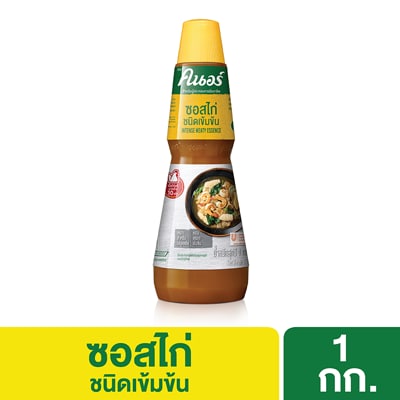 Knorr Intense Meaty Essence gives real chicken taste and aroma to your dishes. Drop to greater flavour, it can boost up strong meaty taste and deliver the top note of your dishes.
Find out more