Garlic is one of the most commonly used ingredients in Thai cooking. Believed to have been introduced to Thailand by the Chinese, garlic is an ancient plant that has been widely known in Central Asia for centuries. 
The use of garlic later spread to the Middle East and its neighbouring countries. In ancient times, garlic was used primarily for medicinal purposes, but it soon gained popularity as a cooking herb.

Did you know these health benefits of garlic?
Helps prevent common cold and flu
Reduces stomach bloating
Reduces blood pressure and cholesterol
Natural pain relief for toothache
Protects the body from harmful bacteria
Today, like ginger and onion, garlic is used as a cooking ingredient in many parts of the world. While each country has its own history and ways of consuming and cooking garlic, the herb has always been used as an aromatic ingredient that greatly enhances the flavour of food.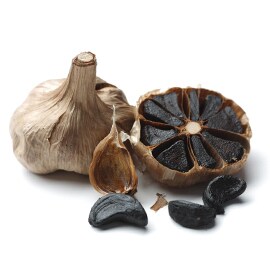 How garlic is preserved in Korea
For example, in Korea, garlic is preserved in a rather complicated process: it is sun-dried for several weeks until the cloves turn soft and dark, which yields a slightly sweet and tangy taste. While it has long been consumed for its health benefits and flavour-enhancing properties, these days, preserved garlic is increasingly being used by Western chefs, who are incorporating it into their dishes to create exciting new menus.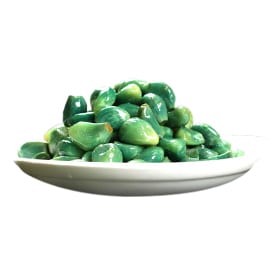 Pickled garlic in China
China's long history of food preservation unveiled a unique garlic preparation method involving soaking purple garlic in vinegar for several weeks until it turns green and gives off a distinctive taste. The Chinese would prepare this kind of pickled garlic, or 'laba garlic', for the spring festival. Considered the ultimate flavour enhancer, it is typically eaten alongside dumplings for dinner during the period.
Garlic in Thailand
In Thailand, we tend to use pickled, roasted or fresh garlic in our cooking. Fresh garlic cloves can either be crushed or chopped; some chefs like to soak them in vegetable oil to extract their flavours, before using the oil to add aroma to a stir-fry dish.
Depending on where it is grown, garlic comes in many different varieties. Garlic grown in Asia generally has a more pungent flavour and smell than that grown in the West. Thai garlic may greet you with a strong smell, but as it is cooked, a mouth-watering aroma and sweet taste begin to develop.
Given its long history in cuisines around the world, it's clear that garlic is the ingredient considered by many to be essential in enhancing the flavours and aroma of food.