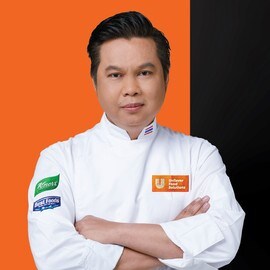 Chef Chaowalit Yimprasert
Executive Sous Chef, Unilever Food Solutions, Thailand
"Good ingredients are the bedrock of cooking and perfecting dishes."
This is has been Chef Chaowalit's firm belief throughout his professional life, and was what led him to become a chef.

Chef Chaowalit, whose original intention was to work abroad, asked himself what was it that he loved doing. As a child, he often helped his mother and grandmother cook for the family. This helped him develop his exceptional cooking skills and became his inspiration for becoming a chef. He thus began his professional life by working at the Sheraton Chiang Mai Hotel. He went through training for about a year before going to South Korea, USA and China for several years to gain more experience. Chef Chaowalit is currently working for Unilever Food Solutions, Thailand.
The principle he keeps in mind is to always stay loyal to his customers by choosing high-quality ingredients with exceptional safety standards. This impresses them and makes them want to come back for more of his dishes.

He believes in cooking with his heart and always going all out for every menu he develops, especially during ingredient preparation. Proportions and ingredients are the most important to Chef Chaowalit. He believes that to create delicious food, one needs to cook with love.

In his opinion, if you want to cook good food, there are 3 elements to bear in mind:
Possess excellent food knowledge
Know how to use good quality ingredients
Be skilful and use cooking tools that meet the necessary standards

To Chef Chaowalit, cooking isn't just science, it's an art. If you have all these 3 elements, not only can you create wonderful dishes, you can become a first-class chef.