As part of our mission to tackle plastic pollution that affects the global environment, Unilever is committed to reduce the use of virgin plastics and accelerate the use of recycled plastic by 2025.
"Our goal is to make packaging more environmentally friendly, while remaining our usability, food safety and consumer-friendly standards." Mike Ross, Unilever's senior packaging manager.
In the past, although we have seen the public and private sectors increasing the awareness of plastic waste problem and environmental protection. In reality, the plastic pollution crisis is expected to grow exponentially. From today until 2040, industries and businesses will see double the production of new non-degradable plastic and four times the amount of plastic waste in the oceans!
Unilever, as a company with social responsibility, we want to be a part of solving the problems the world is facing. Therefore, we have a serious policy to reduce the problem of plastic waste by minimizing the use of new plastic and use more of the existing recycled plastic. This will make the plastic used as a 'resource' rather than a 'waste'.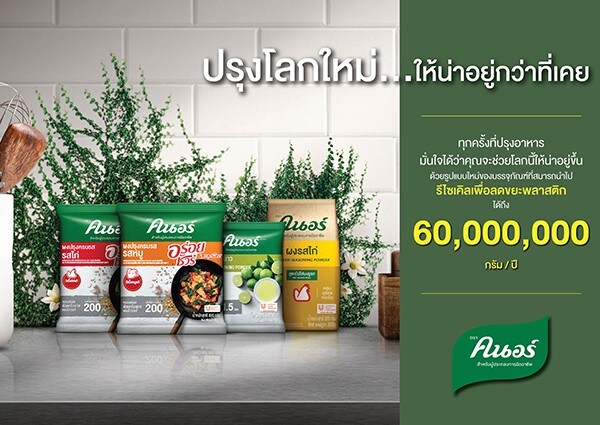 Knorr Professional changing to recyclable packaging for sustainable environment
Knorr Professional, the leading brand of Unilever Food Solutions, is considered a product that has a high association with consumers through food businesses such as restaurants, chain restaurants, and hotels. Knorr professional committed to reduce the use of plastic for sustainable business by 3 principles; 1. Use plastic replacement material 2. Reduce the use of plastic 3. Use plastic that can be recycled or use recycled plastic.

In 2022, Knorr Professional has announced the transformation of packaging to recyclable packaging while maintaining the same packaging quality; resistant to operating conditions and safe to use with food products. After recycled, it can be used to produce various products such as pens, buckets, plant pots, pipes, bolts, wheels, pallets and outdoor furniture packaging. By changing to recyclable packaging, it can reduce plastic waste in Thailand by 60,000,000 grams (60 million grams) per year.

For the long-term goal of 2025, Unilever Food Solutions aims to have 100% of recyclable plastic packaging and 25% of plastic packaging will be made from recycled plastic (or PCR), reducing the use of new plastic by 50%. We are committed to helping create a circular economy for plastics by using raw materials in the most efficient way.

Knorr Professional care about the environment and everyone's health
In addition to the new recyclable packaging, Knorr Professional has adjusted the recommended dosage for each dish for chefs and operators to be sure that every time that you cook, you are providing consumers with a delicious taste under proper nutrition for sustainable health.

Recommended Knorr Professional Products